Historically, poker has always incorporated a number of variables. Some of these variables are statistical (the chances of a particular hand based on the number of decks and players), and some are more intangible (the particular bent or personality of the people you're playing with). It's this mix of concrete and abstract that tends to make poker more fascinating than, say, a round on the slot machines.
So what's the attraction in a game of online poker? With online poker, you can't adjudge the character of your opponent, and you can't estimate whether or not he's bluffing. You have, essentially, no point of reference to decide whether or not to go all in or retire from the round.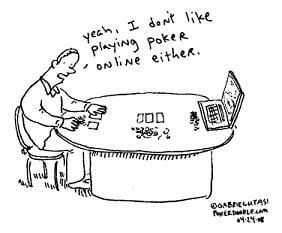 But therein lies a supreme advantage. Most of the better poker players out there will be so practiced in the art and skill of bluffing that an online game could in fact save from making an unwise judgment –going all in, perhaps, when you shouldn't, or retiring from a round when you in fact hold the best hand.
Additionally, there are a host of creature comfort benefits. Some users say that they love being able to play in their pajamas and slippers. They say they appreciate the fact that they can roll their eyes and make other gestures of disrespect as and when they feel like without fear that they're giving some essential clue away about their game. Still others cite how they can dance the funky chicken when they win big without fear of looking like a fool in front of casino personnel. Online poker players have no need to worry about finding parking at a casino and driving home afterwards. They can play as long or as little as they want without noisy cocktail waitresses asking them to order a drink.
Importantly, online poker offers players the chance to practice play, and tend to give them a variety of sign-up and renewal bonuses that land-based casinos simply aren't able to offer. Generally, this is because online establishments have managed to reduce, quite drastically, their operating costs and they readily pass this saving onto their clientele.
Finally, it's a mistake to believe that online poker creates a sterile environment without the buzz and atmosphere of a real game. Many of the better sites have implemented a truly multi-sensory experience to online play, giving users the feeling of gambling at a real table, with a real dealer and real opponents. And if you insist on playing with other live players, many casinos will also offer a live video streaming option with real-time views of other contenders.
On balance, online poker is a really fun way of engaging with the game in a safe environment that free from pestering pit bosses, glaring cameras and tipsy patrons.